If the power supply is unstable or irregular, then corrective measures such as load reduction need to be implemented in an effort to mitigate the risk to the power system. In short, loadshedding is all about saving electricity at a specific point in time. Unplanned plant breakdowns can sometimes lead to a shortage in capacity which, in turn, cause supply interruptions during mid-weekday and weekends. At stages, sporadic shortages will be experienced during the 5 to 9 pm weekday. This situation changes constantly, and Eskom addresses this issue with the highest priority.
How to make provision for power outages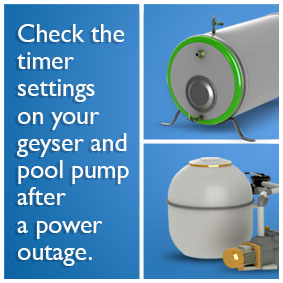 Be prepared for loadshedding with our power outage checklist:
A bit of planning can go a long way. Our power outage checklist will help you plan ahead, but also keep you going when load restructuring is in progress in your area.
Keep your cell phone fully charged when the power is on.

Make sure your vehicle(s) have fuel in the tank – petrol stations cannot pump fuel during power outages.
Access, security and safety always remain a top priority:
Release your automatic electric garage door mechanisms so that you can gain access to your property during a power outage.
Switch your electric security gates to ''manual'' to avoid being either locked out of or in your home.
Keep a battery-powered torch in a place where it will be easy to find in the dark. Make sure you have an extra set of new batteries.
Keep a small torch on the bedside table at all times as well as a set of new batteries.
Invest in a small LP gas lamp for good quality lighting over a large area.
Keep boiled water in thermos flasks for hot drinks during a power outage.
Prepare meals before a power outage starts.
Keep a stock of essential tinned foods and snacks that do not need refrigeration – preserved foods are easy alternatives if you were not able to prepare a meal before the power outage starts.
Invest in a small LP gas heating ring for essential cooking and to boil water for hot drinks – make sure you have an extra bottle of gas.
Keep refrigerator and freezer doors closed at all times – a power outage of four hours should not cause food spoilage and a freezer should keep food frozen and safe for at least a day.
Most medication that need refrigeration can be kept in a closed fridge for several hours without spoiling – it is essential that you check with your doctor or pharmacist to be sure about your type of medication.