Eskom clarifies the 18.65% tariff increase
Saturday, 18 March 2023: The National Energy Regulator of South Africa (NERSA) on 10 March 2023 approved the Eskom annual tariff increases. Over 12 months of the Eskom financial year, commencing on 01 April, a 18.65% increase is applicable to Eskom directly supplied or non-municipal tariffs; which refers to Eskom's standard tariff customers. The Municipal increase of 18.49% is effective on 1 July 2023.
A 10% increase will apply to the subsidised Homelight 20A inclining block tariff for Block 1 (>0-350kWh) and Block 2 (>350kWh). The NERSA methodology allows for cross-subsidies. The Affordability subsidy charge exists due to historically lower Homelight 20A tariff increases and is paid by the non-municipal large industrial and urban tariffs. The 2023/24 increase to the affordability subsidy for non-municipal large industrial and urban customers is 29.53% due to the growth in the subsidy to Homelight 20A tariff following only a 10% increase that is 8.65% lower than the average 18.65% non-municipal increase.
Including the increase to the Affordability subsidy charge, the 18.65% increase to the non-municipal key industrial and urban customers grows to 19.09% and is effective on 1 April 2023. During April to June 2023, the 2022/23 tariffs will be applicable to Municipalities. The 18.49% municipal increase will be effective from 1 July 2023. The NERSA 2023/24 tariff decisions will be implemented as follows:
• Non-local authority tariffs (non-municipal customers) will come into effect from 1 April 2023 to 31 March 2024; and
• The Local authority tariffs will come into effect from 1 July 2023 to 30 June 2024 in compliance to the Municipal Finance Management Act (MFMA).
The Eskom Standard tariff category increases are outlined in the table below.
2023/24 average Eskom tariff category increases: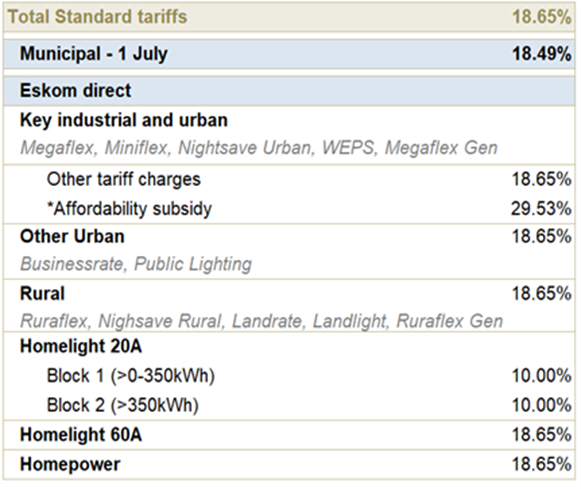 ENDS