Company information overview
Strategic 100% state-owned electricity utility, strongly supported by the government
Performed 163 613 household electrification connections during the 2020 financial year
As at 31 March 2020:
6 716 201million direct customers (2017: 5.6 million)
30  (including 1 nuclear) operational power stations with a nominal generating capacity of 45 117MW
Total sales of 205 635GWh
Approximately 391 784km of cables and power lines
44772 employees, inclusive of subsidiaries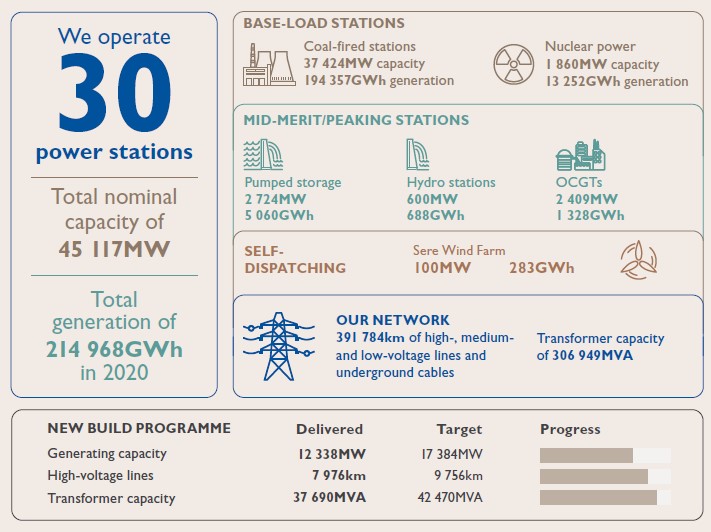 STRATEGIC INTENT STATEMENT
As a state-owned entity, Eskom must implement government policy and strategy. The Shareholder's Strategic Intent Statement (SIS) outlines government's short-to-medium-term and long-term objectives for Eskom to achieve.  
Eskom has adopted these SIS objectives to ensure that Eskom remains a critical and strategic contributor to government's goal of ensuring security of electricity supply to the country, and enabling economic growth and prosperity.
For more information please contact the Office of the Group Chief Executive: Strategy Support Division
Source: 2018/19 – 2022/23 Eskom Holdings Corporate Plan