Eskom Business Investment Competition Gauteng winners encourage clean living and eating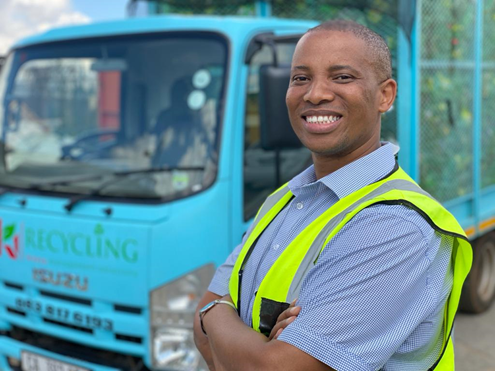 26 October 2021. Over the past 13 years, the Eskom Development Foundation has been a catalyst for the growth of black-owned small, medium and micro enterprises (SMMEs) across South Africa, through their annual Business Investment Competition (BIC). Last year, over 400 SMMEs participated in the competition.
The 2020 Gauteng-based manufacturing sector winner, Tshepo Mazibuko, and the agriculture sector 2nd runner up, Bontle Tshole, were both driven by their passion to help create a healthy lifestyle for their clients albeit in vastly different fields – with one cleaning up the streets and the other providing a scrumptious selection of nutritious meals and beverages.
Mazibuko, from Kathlehong, South East of Johannesburg, was mostly driven by unemployment and pollution in and around his township when he founded his business, K1 Recycling and Waste Management in 2009. With the prize money he won, Mazibuko and his team managed to upgrade the electricity in their factory in order to increase production capacity. He started as a waste picker, then identified an opportunity to buy recyclables from the pickers.
Bontle Tshole, owner of Baaa Enterprise, is passionate about healthy living and was motivated to take part in the BIC to gain exposure for her brand. Tshole established her business in 2017 and it has since grown in leaps and bounds. When asked if she would consider acting as a BIC ambassador she responded, "It is important for people to see how business owners who have participated and won the competition thrive, in order for them to see how real the competition is."
In a survey conducted after the initiative, participants mentioned that they were not only motivated by the prize money, but also the opportunity to take part in the Business Connect, a two-day business training workshop open to BIC finalists.
"We are excited to once again open up the Business Investment Competition to the emerging business sector to further deliver on our Corporate Social Responsibility (CSR) strategic objectives for the 2021/22 financial year.  We also focus on youth and women, as well as businesses owned by people with disabilities," says Cecil Ramonotsi, Chief Executive Officer of the Eskom Development Foundation (ESDEF). The aim of the BIC is to boost black-owned enterprises by providing a platform for entrepreneurs to become part of a community of like-minded peers, as they look to build their own businesses. With cash prizes up for grabs, SMMEs from across the country took part in the competition's four categories – manufacturing, trade and services, agriculture and agri-processing, as well as construction and engineering.
If you are a qualifying black-owned small business, do seize this opportunity! Enter at www.eskombic2021.co.za until midnight on 31 October 2021.
For support and assistance, email Grounded Media at [email protected]
Ends
For media enquiries, contact:
Madelline Kadzinga
Foundation Project Marketing and Communication Manager
Eskom Development Foundation
Telephone: 076 724 5795
Email: [email protected]
Find us online:
Facebook: www.facebook.com/EskomDevelopmentFoundation
Twitter:      @eskomfoundation
Instagram: @eskomfoundation