Generation Connection Assessment of the 2016 Transmission Network
Eskom Holdings is the biggest producer of electricity in South Africa; it is also the sole transmitter of electricity via a transmission network which supplies electricity at high voltages to a number of key customers and distributors. Eskom is a vertically integrated company licensed to generate, transmit and distribute electricity. The transmission licence is held by Eskom Transmission, the transmission network service provider (TNSP). Planning the transmission network is the responsibility of the Grid Planning Department in the Transmission Division.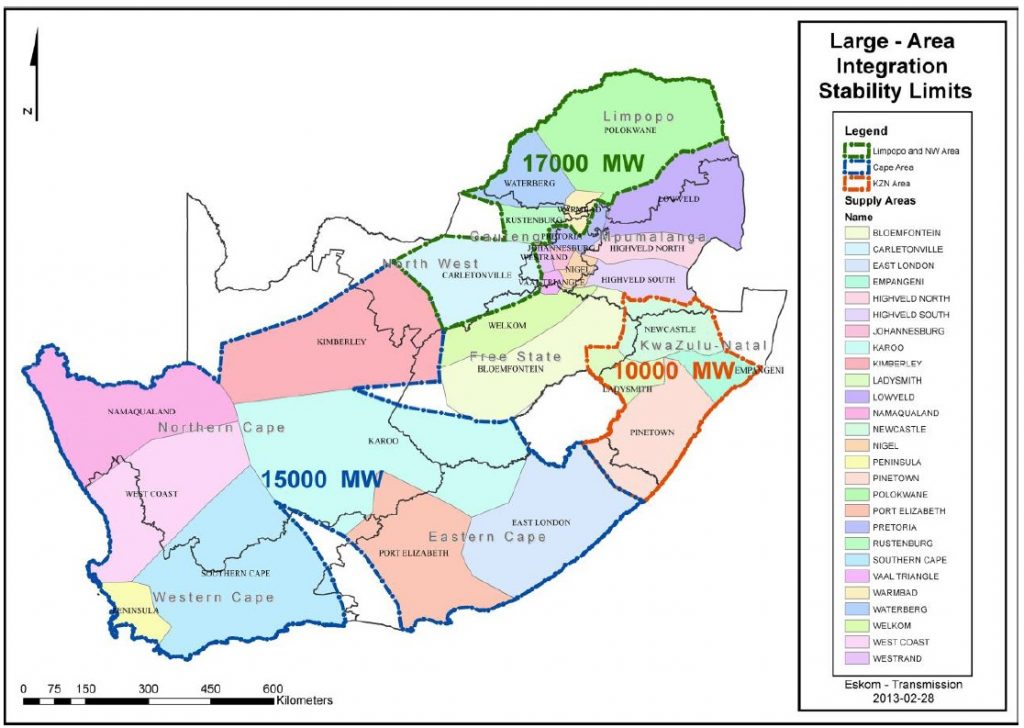 The intention of this document is to provide an indication of the available capacity for the connection of new generation at the Main Transmission System (MTS) substations on the Eskom transmission network that will be in service by 2016. The capacity specifies the substation limit as well as the transmission backbone limit for simultaneous generation connection at an HV bus bar of a MTS substation in a specific area. The grid is divided into 27 load supply areas, and these supply areas are used as generation connection areas to assess how much generation can be connected in each area. The capacities specified are for both steady-state and transient power system conditions. The transient stability limit represents the technically feasible integration limit, especially with regard to area limits. The provided values are not intended to be fixed specific connection capacities as each connection is unique, but rather to be used as a guideline to indicate the potential for connecting to a specific point or area in the transmission network, and also to identify the network strengthening required to unlock the network capacity to integrate more IPPs in areas which have high generation resources available.
The steady-state results provide the available capacity at MTS substations and also at an area level. All areas in the Cape have been combined to test the capacity of the Cape corridor. In the transient study, the focus of the results is on area limits, and the corridors supplying a number of areas are also tested by combining a number of areas into one large area. The results of this study can be used to assess the capacity (MW) that can be connected at each MTS substation for N-1 Grid Code reliability level, and also the total capacity that an area or a group of areas can handle without violating the limits of network stability.
The GCCA-2016 document can be downloaded here:       GCCA 2016 Report Rev 2